Proprietary and Client Companies
THE GO-TO SOLUTIONS PROVIDER FOR GOVERNMENTS, MILITARIES, AND INDUSTRIES
Our purpose built companies have been the go-to solutions provider to meet international challenges, stabilize critical situations, and solve complex issues for government and multinational clients, in some of the world's most challenging and hostile markets.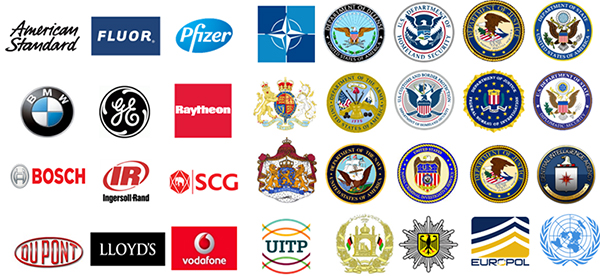 Our corporate development, marketing program, and sales network development engagements have consistently delivered positive outcomes for our clients for decades.
Our intelligence and due diligence expertise are the foundation of several successful international mergers, acquisitions, and shareholder appreciation.
Our security consulting and operations help mitigate risks to government and private sector client infrastructure, assets and personnel. Our risk management services provide hostage negotiations, recovery, and repatriation.
Our results-oriented intellectual property investigations and recoveries.
Our companies have been awarded dozens of multi-million-dollar U.S. and foreign government contracts.
Client Examples
Our companies and their teams have provided strategic solutions, tactical services, and training for U.S., NATO, and allied government defense and law enforcement agencies. We have provided international corporate development, market development, and risk mitigation services to our multinational clients.
Government, Defense, OGA, IGO, NGO

U.S. Army
U.S. Navy
U.S. Marine Corps
U.S. State Department
U.S. Department of Justice
U.S. Secret Service
U.S. Department of Homeland Security
U.S. Drug Enforcement Administration
U.S. Federal Bureau of Investigation
North Atlantic Treaty Organization (NATO)
Canadian Ministry of Foreign Affairs
Netherlands Foreign Ministry
Afghanistan Government
Afghan Education and Relief Organisation
United Nations
European Union Security Commission
UITP - Public Transportation Security

Multinational Companies

American Standard
Borden Industries
Bosch AG
Dupont
Fluor Engineering
General Electric
Home Depot
Ingersoll Rand
Louis Berger Engineering
Llyod's Insurance
Motion Picture Association of America
PACEM Defense
Pfizer
Siam Cement Group
SmithKline Beecham
Sotheby's International Realty
Vodafone